Save 55% Buy direct from the publisher for only 24.97!

To save an additional $16. Click here to buy the Ebook
7 Easy Steps to BobCAD/CAM . . . A Beginner's Guide
for HobbyPro and v19-v21
This book is fantastic for BobCAD/CAM HobbyPro and versions 19-21
But is not applicable for versions 22 and later.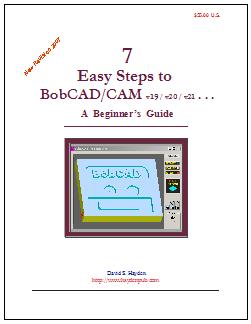 7 Easy Steps to BobCAD/CAM Book Cover
When you think about your BobCAD/CAM investment, does it hurt?
Do you wish you could be more productive with BobCAD/CAM?
Have you found you need a useful How-to manual?


7 Easy Steps to BobCAD/CAM . . . A Beginner's Guide may be the inexpensive solution you have been waiting for!
This unique book takes you from learning the menus, through a series of organized steps to draw and machine a part.


After reading this book, you will be more efficient, more confident and more productive using BobCAD/CAM. You will learn more than just a list of features. You will learn:
The 7 Steps to proper
organization and planning to simplify NC programmingwith BobCAD/CAM.

How to move and orient the User Coordinate System (UCS) to simplify drawing and NC programming.

How to avoid and/or work around a bug in BobCAD/CAM's User Coordinate System.

How to use and name layers to greatly reduce the amount of time it takes to create NC / G code.

How to face, drill, mill, pocket, machine
text with minimum effort.

How to set up Tool Libraries for organizing all your tools so you have the tool you need, when you need it, with all the preset speeds and feeds.

How to effectively move between 2D and 3D modes methods to simplify your NC programming tasks.


There is so much more in this book. Check out these chapters - Free of charge.


Why This Book?
Table Of Contents

10 Minute Tour
Index
BobCAD dealers help support your customers by providing them with alternative, more effective, less expensive training materials. (Email
7steps@haydenpub.com
for reseller discounts and drop ship information).

100% Satisfaction Guarantee
Try my book 7 Easy Steps to BobCAD/CAM . . .A Beginner's Guide for 30 days. If you are not completely satisfied, just return the book, undamaged and you will be sent a full refund. It's that simple, no questions asked.


Take advantage of this special offer and save $30.03
Don't wait any longer! Order your copy(s) of 7 Easy Steps toBobCAD/CAM . . . A Beginner's Guide.

To save $47 off the printed edition price. Click here to buy the Ebook

---
---
Order By Mail
All payments should be in US dollars drawn on a US bank and be made out to:


Haydenpub.com

Mail your $29.97 (includes $5. S&H) payment along with your name, address, phone number, and
E-Mail address to:


Haydenpub.com
241 E Bethesda Road
Burleson, TX 76028


Orders will be processed on a first come first serve basis while supplies last.
---
Copyright © 2014 David S. Hayden