Buy Direct from the Publisher and Save $14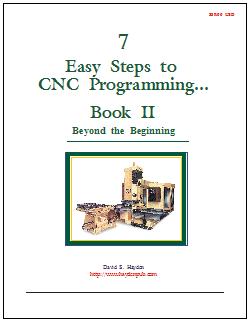 Book Cover
7 Easy Steps to CNC Programming, Book II: Beyond the Beginning
The Next Easy Lesson on CNC Programming


If you work in, supervise or manage a shop that has lathes, mills, EDM, routers, burn tables etc, and you need or want to know more about CNC programming, this offer is for YOU! According to the 26th edition of Machinery's Handbook,
" Over 80 percent of the dollars being spent on the most common types of machine tools, namely drilling, milling, boring, and turning machines, are going to NC equipment-"
¥ Oberg, Erik, et al, Machinery's Handbook, Edited, Christopher, J. McCauley, Riccardo Heald, and Muhammed Iqbal Hussain' 26th ed. New York: Industrial P, 2000.¤
This is a popular book, that has sold hundreds of copies in several countries at $39.00USD but for you it is discounted more than 35% . This is a limited time, offer - while supplies last. The retail price is $39.00 but it is so popular it is selling for over $44.00 on Ebay. Check it out, go to Ebay and search for 7 Easy Steps to CNC Programming.

7 Easy Steps to CNC Programming... Book II - Beyond the Beginning is a manual specifically created for NC programmers, engineers, supervisors and other personnel that support CNC operations.
This easy to understand learning aid was designed to maximize the readers retention. It features:


8 ½" by 11" single sided pages with generous amounts of white space for jotting down important notes.

A detailed table of contents for simple navigation and reference.

A detailed index that references all CNC commands discussed.

Spiral binding so it lays flat on any surface for convenient reading and note taking.

Dozens of illustrations and examples to clarify complex concepts.

Numerous

color illustrations

and examples to clarify complex concepts.

Most common CNC control codes covering a majority of CNC controls. Including many LATHE and MILL canned cycles

Utilizes every day non-technical examples to explain otherwise complex subjects.

Provides the necessary steps and instructions to go from a blueprint to a completed CNC program.
Engineers can more easily design for manufacture.

Supervisors can be of greater support to operators. Managers/Supervisors can more reliably measure the quality of CNC programs.

Programmers using Computer Aided Manufacturing (CAM) systems can more reliably desk check programs before sending them to the shop.

Managers/Supervisors can feel more confident when discussing CNC related issues.

Managers/Supervisors can garner more respect from CNC operators and programmers.

Well trained operators increase efficiency and profitability.

Well trained operators can more easily spot programming errors.

Well trained operators are less likely to scrap parts.

Well trained operators are less likely to have crashes and suffer personal injury.
Take advantage of this special offer and save $14.03
Don't wait any longer to advance your career! Order your copy(s) of 7 Easy Steps to CNC Programming, Book II: Beyond the Beginning.
---
Order By Mail
All payments should be in US dollars drawn on a US bank and be made out to:
Haydenpub.com

Mail your $29.97 (includes $5. S&H) payment along with your name, address, phone number, and
E-Mail address to:

Haydenpub.com
241 E Bethesda Road
Burleson, TX 76028

Orders will be processed on a first come first serve basis while supplies last.
---
Copyright © 2014 David S. Hayden